Mos Eisley Base Meeting,
Samurai Comics
Saturday, January 14, 2012



Members Present:


Mnlymn
Mdublade
Granny-Wan
Grampy-Wan
RhidelSilpheed
Jahpor Moongrazer
Lady_Jedi_Carenix
fleet_trooper
romero4444
Catsirishgirl
Darkshifter82



Also present:


Dave Littleton (AZ R2 Builders)
Jeff Hill (AZ R2 Builders)
Lisa Romero (Mando Mercs)
Wayne Spence (Dune Sea Garrison)



Call to Order.





Review of Events, 2011:


ACS Relay for Life East Mesa
Phoenix Comicon
Tucson Comic Con
Tucson Fiesta of Lights Parade
Fiesta Bowl Parade



Review of Events, 2012:


Amazing Arizona Comic Convention



Preview of Upcoming Events, 2012:





Episode I 3-D Event:


Questions of whether we had heard anything of a local screening for the 3-D release of Episode I. We have not heard of anything at this point.

Update: I heard from both the Rebel Legion and LFL's Mary Franklin of a local event. Complete details of our participation have not been released yet, but the event is scheduled for the AMC Mesa Grand on Saturday, February 11th.





ACS Relay for Life East Mesa:


Joel discussed that he and Brenda will not be able to Captain the event this year due to the arrival of their daughter (yay J & B!); suggestions were made that the MEB may just raise funds the day with a raffle of SW toys and merch; discussed that our presence may just be through the 9 pm candlelight remembrance walk and then tear down.

Update: Sandra and Jeff have agreed to become team captains. More event details to come.





Phoenix Comicon:


Discussed the possibilities of what MEB can do to entice more members to join, including having a laptop at our table displaying photos of events, charities, etc. I mentioned that I had purchased 100 of the orange RL logo balloons (but will need to figure out how to get them inflated – perhabs rent/buy a small helium tank); we as a base will need to provide 3 2' x 6' tables, if you can donate one please let me know. Folding chairs will also be needed (at least 6). We will have the "Bespin Wall" behind our area for photos. Wayne from the DSG will be working on a new blueprint for the event. News from Joe of the PCC is that our space is being increased from last year's 50' x 70' to 50' x 80'.

Also discussed buying an 8' x 10' photo wall:

13 oz. scrim vinyl outdoor banner material. price is $165 plus $9.61 ($174.61 total) for shipping with side (or top & bottom) pole pockets (or grommets at the corners or grommets every 2 feet).

This is the design we are looking at producing:

http://i120.photobucket.com/albums/o162/darienvader/501st%20banners/Falcon.jpg

We will need donations and I will be putting up a PayPal link so that donations can be made to reach our goal (We have already received an offer of a $50 donation from Dune Sea Garrison's Lee Palmer).

Mando Mercs will have 2 display cases; their jail, and have produced a replica Tatooine Moisture Vaporator.
DSG has new Death Star Walls and will have floor cases. A replica of the Tantive IV hallway from ANH is undetermined.

Waiting to hear from Lego Corporate to see if we may get one of their large size master builds. Chandler Lego store will have a presence.

Some talk of an "Ask a Droid" panel where audience members ask droids a question and they response with beeps and boops and a moderator then translates.

I showed a potential t-shirt/patch design that I created for the four SW groups at PCC.



New Executive Officer Search:


Zen Solo (Heidi) had made the decision to step down as MEB XO due to time constraints. Put out to membership the open position and received two volunteers, Granny-Wan (Marie) and Jahpor Moongrazer (Jillian).

Update: I invited Marie to become the new MEB XO and asked Jillian to become the new Base Public Relations Officer. Gratefully, both accepted the positions!





Blowing My Own Horn:


I took the opportunity to pat my own back by mentioning that my Admiral Ackbar "Come to the Lightside, we have heroes" t-shirt design appears to be headed for production as a piece of Legion merch (see: http://www.rebellegion.com/forum/viewtopic.php?t=36378&start=0 ). As well, I have a design in contention to be used for the Rebel Legion Celebration VI official merchandise...for which you can vote at: http://www.rebellegion.com/forum/viewtopic.php?t=36414 (mine is the Ewok design)

Next meeting will be at Samurai Comics on April 14 (4-6 pm).



Meeting Closed.





Minutes approved. Mike Little, Base Commanding Officer


_________________
Mike Little,
Commanding Officer, Mos Eisley Base
Squadron Commanding Officer, Womp Rat Squadron
RL Trading Card: Series 1, Number 44
RL Trading Card: Series 3, Number 137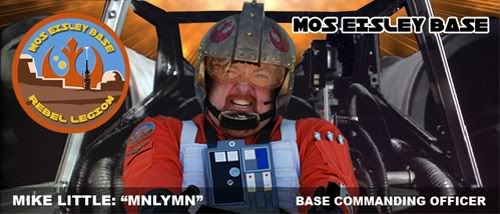 "I feel the need...the need for Rebellion!"